Social media has a 100% higher lead-to-close rate than traditional outbound marketing. Did you know that 74% of online adults use social networking sites. This means that you have the opportunity to connect and build a relationship with them because if you're not, your competitors are.
As a matter of fact, 83% of marketers indicate that social media is important for their business and hopefully you're part of the those that believe it's important for generating leads.
You can get found by potential customers, connect and build relationships with prospects at a whole new level with Social Media Marketing.
Not all social media channels may be a good fit for your business, but if you're not using what's working and your competitors are then you're missing out.
So, when you're ready to get started attracting leads, building relationships, and engaging your prospects with social media marketing, click the link below and request a free assessment.
[hs_action id="11077″]
Businesses are using social media marketing for measurable and actionable results.
Now more than ever, marketing departments are being asked to demonstrate the value of social media activity. Social media marketing is a critical element in your overall inbound marketing strategy. Using social media offers you the ability to engage prospects and connect with them at their level. The conversion goes both ways and they're usually the ones that reach out to you. It is extremely important that you engage in social media marketing.
DCD is a full service social media marketing company. Engaging fans and followers on Facebook, Twitter, LinkedIn and Google+ is part of our inbound marketing services. We publish content we develop such as blogs on your top social media channels. We monitor your social media presence for your brand and industry related terms. Keeping tabs on your brand is important to maintain your businesses' online reputation. By offering beneficial content and consistent engagement we build your audience and grow your following. The people who will follow your business will be real people who truly love your brand. We identify key influencers in your audience and engage in dialogue on behalf of your company. With marketing analytics we are able to demonstrate the value of social media with measurable and actionable results.
Why is Atlanta Social Media Marketing Important?
LinkedIn, Facebook and Twitter are becoming more useful ways to acquire customers with significant growth in 2012.
52% of businesses acquired a new customer through Facebook in 2012.
62% of businesses acquired a new customer through LinkedIn in 2012.
44% of businesses acquired a new customer through Twitter in 2012.
Facebook is most effective for B2C and LinkedIn is more effective for B2B customer acquisition.
Social media was rated the most important marketing channel in a 2012 study.
Social Media & Blogs Generate Real Customers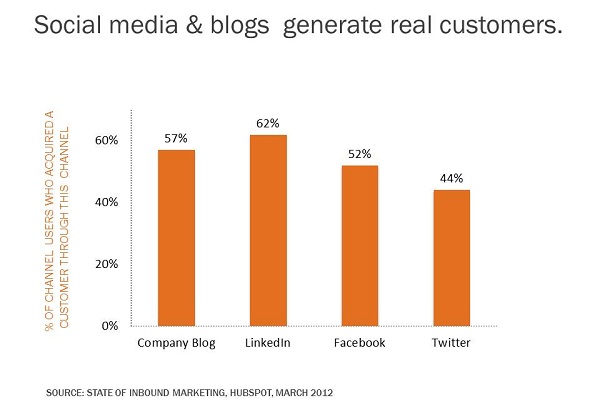 How do I get started with Social Media?
If you're looking for a trusted Atlanta social media marketing company that can help you achieve your business goals and you're looking for that special team of Atlanta social media experts, that can help your business succeed, contact us today and receive your complementary social media marketing consultation. There's no better time to make your social media channels work for your business. DCD is your trusted resource for inbound marketing, video production, web design and more!