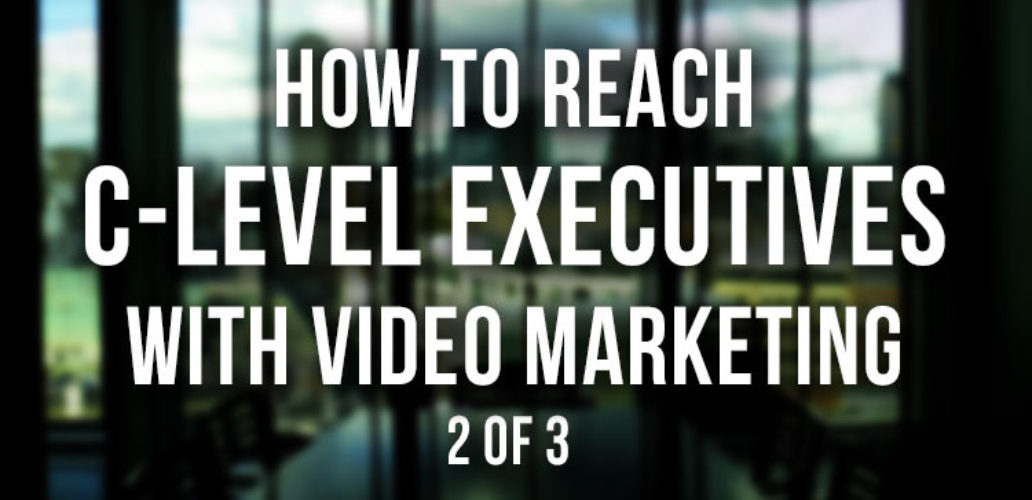 How to Reach C-Level Executives: Use Video Marketing (Part 2 of 3)
As a continuation of our series about How to Reach C-Level Executives: Use Video Marketing we hope you enjoy part two!
With the short amount of time allotted to reaching C-level executives, there really is only one method available to perform the necessary outreach of the advertising campaign: video.
Video provides benefits no other form of marketing is able to produce, making it invaluable in pushing the material and services you and your own company provides.
Video content marketing, while still growing in popularity, is one of the very best ways to driving home an idea and drawing the interest of a perspective party. Due to the time limitations of the C-level executives, this is your best course of action.
Video Content is More Popular than Ever
Online videos are more popular today than ever before and this popularity is only going to increase. In fact, a total of 83 percent of those polled said they either agreed or strongly agreed with watching more online videos today than they had the previous.
These kinds of numbers point to a rather significant increase in not only the popularity of the online video market but also the sheer number of videos online. This points to the importance of not only creating video marketing but to also ensure it is of the highest quality, as your marketing material now has more competition for potential views.
Benefits of Video Marketing According to Forbes Insight: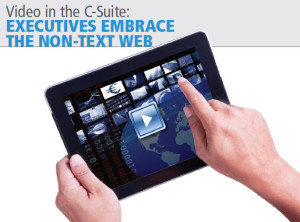 65 percent of all executives who watched a work related online video all the way through eventually visited the vendor's website.
Another 53 percent of viewers searched for additional produce information.
An average of 42 percent actually went on to make a business related purchase.
Even 30 percent of C-level executives state they have contacted a business after viewing a video ad through YouTube.
These statistics show remarkable benefits to producing a quality, online video. Of course, in order to garnish these benefits, the video must remain of the highest quality, as executives with tight schedules are not going to sit through inferior productions when they have more important tasks at hand. Video marketing stands as the best way to reach these potential, high-end companies, but only if it is done properly.
Video is Preferred Over Text Content
With the short time allotted to you to grab the attention of your target audience, you need to demonstrate why the C-level executive should select your product or purchase your services.
Large, thick paragraphs generally are not the answer, as few people actually want to read through every piece of marketing literature they receive on a daily basis. There simply is not enough time in the day to do this.
Your website can contain all of the necessary literature they might need to answer important questions, but in terms of grabbing their attention and turning on their interest, video is the way to go.
This is the easiest form of obtaining information the executive has. All they need is to click "Play" and you provide the information. While a catchy headline or image does help the word-based marketing platform, there is only so much that can be included and it all takes longer to grab the attention of the reader.
With more and more executives turning to video on a daily basis, it simply means your video has a better chance of catching their attention than another company who only produces text and print based marketing.
High Quality Video
With more and more videos going online for executives to find, it means you have more and more competition. This simply means you need to improve upon the quality of the video. This revolves around both upgrading the specifications of the video to high-definition and high-end audio.
You should to upgrade the overall appearance of the video as well, using professional lighting, graphics and music. While producing a high quality video does typically cost more, your marketing results depend on having a world class video.
Conclusion:
Getting in front of c-level executives is never going to be an easy task. I hope that these insights into how executives are choosing video content over other forms of media is going to make you consider adding video to your marketing strategy. Looking forward to your feedback and questions in the comments below. If you like this article please share it with your friends and collogues!
[hs_action id="13034″]