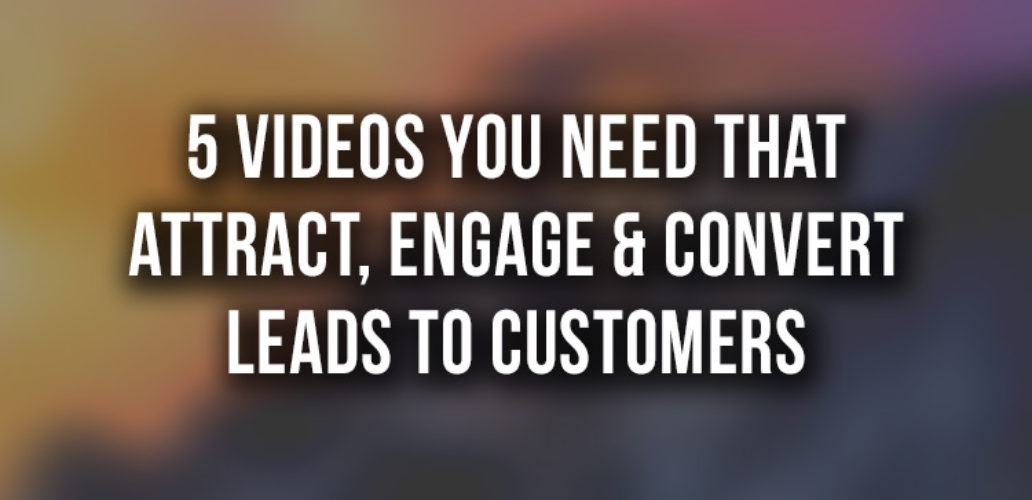 5 Videos that Attract, Engage & Convert Leads to Customers
There are the five videos that every business needs in order to grow with video content marketing. Whether you're B2B, or B2C; whether you sell a product or a service, these are the types of videos that you're going to want to use. The videos coming up will be used at each stage of your sales funnel or buyer's journey. Each video has a specific strategic business goal that it helps you achieve. There is some overlap in benefits however they each perform better at their specified goal.
You might notice a lot of videos from one particular business. This is because they are absolutely "killing it" when it comes to doing things right, generating leads and on-boarding customers with video content. Here's a case study you can review if you'd like to learn more.
Related Article: How to Map Video Content to Your Buyer's Journey
#1 – Thought Leadership Videos & Interview Videos
We hear a lot about video blogging and video content marketing. You might ask, what's better? Should I try to do a blog or try to do a video? We see that since written content is great, if you're not doing any type of blogging, I would say you have to do some business blogging. But if you want to see even more engagement, then you're going to want to use video because it's four times as engaging, than written content. If you're going to be investing in content marketing, why go with something that's only giving you a limited result, when you can have even better results. Some of the different benefits of using interview style videos is being able to attract leads to your website, answer your buyer questions, build buyer trust.
Strategic Business Goals:
Attracts leads
Answers buyer questions
Builds buyer trust
Build relationships
Educates future customers
Influences buyer decisions
Sales tool
[Tweet "Capture amazing content for blogs with interview style videos"]
http://dcd.wistia.com/medias/qgb6rz6aba?embedType=seo&videoFoam=true&videoWidth=650
How many of you guys have a hard time getting really good blog articles, or any type of information from the people that are experts? It's difficult to get people to commit to sending you an email with their answers. This is how we get it. You sit them down in front of the camera. You ask them to talk about their business and their passion, and answer all those questions that they're asked all the time on the phone during your consultations or sales calls. This is the way you get it across. It's easy, it's simple and you can record, we can do in four hours 50+ videos like this. So it can be very efficient.
#2 – Landing Page Videos:
We all know about premium content offers. These are great lead generation tools. On each landing page, we recommend a video. Did you know that using video on landing pages can increase conversion by 80%?! The video can be 30 seconds or it can be five minutes. There's no like magic number of the length of an ideal landing page video. What you want to do is if you can get your message across in 30 seconds, it's a 30-second video. If you can get your message across in five minutes, it's a five-minute video. That's how you determine the length.
You want to create desire, include the value proposition, and incorporate the benefits. This is going to entice them to convert. A lot of times the video is supported by the bullet point copy that's included on your landing page. You can have it auto play or you can have people click on the play button. Both versions require you to test it on your audience.
Strategic Business Goals:
Creates desire
Clear value proposition
Converts leads
Thorough yet concise
Increases Conversion Rate
[Tweet "Using video on landing pages can increase conversion by 80%?!"]
#3 – About Us / Corporate Profile Videos:
This is where you really focus on your 'why'. If you are not familiar with Simon Senik you need to watch his video: "Start With Why". Click Here to watch the video "Start With Why" Focus on why you do what you do in your business. This is not a video about how you and your company are so amazing. It's not why we are the best at everything. Nobody really likes to watch those kinds of videos and the goal is for people to watch your video and be engaged with your brand. So much so that they feel compelled to share it with others. You want to tell a story; tell a way that you've been able to engage your clients, your customers or however that works and how you help them and that help solved that problem that they're having. Tell a story for the best results.
 Strategic Business Goals:
Tells your "WHY" story
Builds brand respect
Builds trust
Starts relationship
Builds brand loyalty
[Tweet "Tell your "WHY" story with a Corporate Profile or About Us Video"]
#4 – Testimonial Videos:
People want to see social proof that the products or services that you offer are legitimate or deliver results. There's not a magic number of reviews that you need but if you have them people will read, or watch everyone of them. They're like flowers to bees – they love all of them but they like beautiful ones more. Video testimonials are even more powerful than written text. Take excerpts of the videos and place it all over your website. Don't build a testimonial page on your website. Put testimonial videos where people are researching information like your blog or services/product pages. Put them where you want people to convert. You can also send these video to your email list depending on where they are in your sales funnel. These videos can be the deciding factor for customers to choose you or to not choose you.
Strategic Business Goals:
Social Proof
Builds brand respect
Builds trust
Builds brand loyalty
Influence buyer decisions
Creates desire
Preempt competitors
Close more sales
[Tweet "Testimonial Videos Provide Social Proof "]
Product Demo and/or Explainer :
There are two types of video featured here. There's a difference between a product demo and an explainer video.
If you have a product then you'll leverage product demo videos as that 5th essential video.
If you have a service an explainer videos as that 5th essential video.
You can have some overlap but for the most part, these are the where you need to start. Product demos can showcase exactly how a product works, how it's used, how it's different, etc. It can be really boring or they can be really entertaining. You're style will impact effectiveness of each video. Explainer videos can show very well a process. What steps need to take place in order for something to be successful. Each of these videos make it easier for customers to understand what they're about to purchase (of have already purchased).
Strategic Business Goals:
Concise & easy to grasp
Influence buyer decisions
Creates desire
Preempt competitors
Increase conversions
Close more sales
[Tweet "Help Customers Make Buying Decisions Easier with Explainer Videos"]
Conclusion:
We've had the opportunity to work with several innovative companies in Atlanta and a cross the country. The focus has always been how to generate more leads and do it better than their competition. This has lead us to constantly be looking for ways that are going to be even more effective. This journey has lead us to leverage video content. I hope that these five videos will help you grow your business. Please continue the discussion in the comments below or on Facebook and/or Twitter.
[hs_action id="13881″]