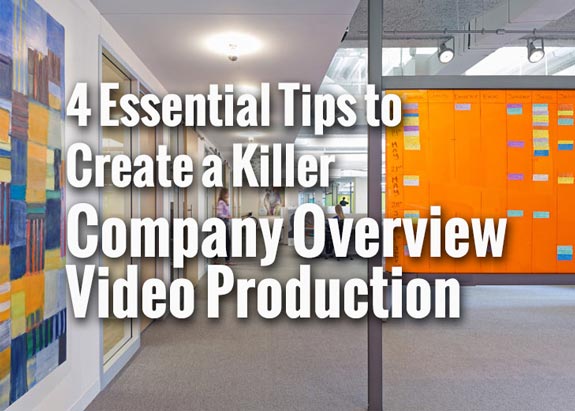 4 Essential Tips to Create a Killer Company Overview Video Production
Whether this is your first business video or you're a seasoned veteran these tips will help you produce a killer company overview video. Starting off on the right track is essential to reaching your video goals. There are many uses for creating a business profile video. Including an overview video on your website and other social media channels is a foundational step to any inbound marketing campaign as well. Here are three ways that you can improve your company video.
1. Poll Your Existing Clients
Often times we don't know what to include in our profile video. Asking your clients is the perfect way to start. There must be a reason that your existing clients have chosen to work with you. Asking them what they think your strong areas are (as well as weak areas) can give you a great start to answering the questions of prospective clients.  You don't necessarily need to use their feedback word for word or incorporate a testimonial from them but as stated before, it's a great place to start.
2. Plan Ahead
We can't stress planning for the long term enough. Nothing is worse than investing thousands of dollars into a corporate overview video, only to need to revise or completely redo later. I certainly encourage you to consider your long term business goals. This can impact your video production process significantly. One example pertains to the face of the company. Will you be using internal personnel or hired talent to represent your company? What if the internal person is no longer working for your business 6 months from now? They've taken a job at a competitor? I'm not saying that this will happen but it has and the last thing you want to do is re-film the video.
3. Think Modular
It's not easy to pack all of the amazing things about your company into a single video. It's tough to choose what you need to include. When getting started, write down all of the ideas, thoughts, topics, and categories that you're considering of including. Group them into like categories, then condense that category down into a single statement. If you can't bring it down to once statement, divide that category into two categories until you can. Then prioritize the statements from most critical to include down to least critical. This will help you break your ideas down into their simplest form and make it easier to choose what to include and what to save for a later video.
Here's an example series of videos that we produced for United Controls International. The first video in the playlist is their overview video, followed by a series of modular videos that are more in depth.
4. Tell Your Story
At the end of the day, people don't remember all of the features and benefits that are often included in a company overview video. People remember the story, how it made them feel. What kind of feeling are you wanting to convey to your prospects? Trust? Expertise? Loyalty? Cut through the cliche terms and company jargon and tell people about you. Speak about what matters to your prospect and not what makes you the same as everyone else.
Below is our own company profile video. Please tell us what you think in the comments below.

[hs_action id="10231″] photo credit: Phil Manker
David Caron is the Founder & CEO of
DCD Agency
, a video centric inbound marketing agency in Atlanta, GA. He's passionate about helping businesses grow by leveraging video content within inbound marketing campaigns. David and his Agency have created award winning videos and websites and have been trusted by Fortune 500 companies, universities, small businesses and companies just like yours as an extension of their marketing department. Connect with him on Twitter @DavidCaronDC.
Latest posts by David Caron (see all)