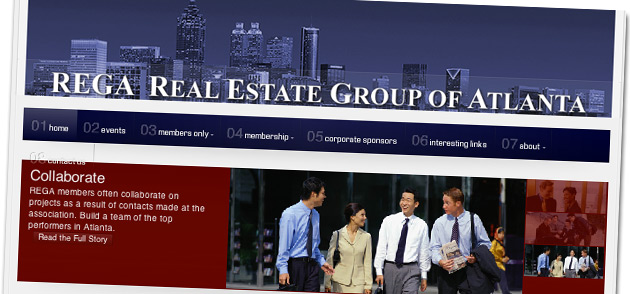 Real Estate Group Of Atlanta – Corporate Sponsorship
We are excited to announce our new sponsorship of REGA – Real Estate Group of Atlanta. REGA, one of Atlanta's most prominent commercial real estate organizations, was established in 1989 and is dedicated to furthering the networking and education opportunities of commercial real estate professionals in the Atlanta area. We are excited to be a part of this influential organization.
We will be responsible for a new website design as well as an organization overview video. In the next month or so, we will release the redesigned website. There are many exciting updates and new features to the platform and design, so get excited!
We will also work closely with the REGA President and board members to create an entertaining and informative organization overview video to feature on the website. We are thrilled to be part of this organization and the service it provides to its members.
If you're interested in becoming involved with REGA or would like to become a sponsor, contact REGA here.
David Caron is the Founder & CEO of
DCD Agency
, a video centric inbound marketing agency in Atlanta, GA. He's passionate about helping businesses grow by leveraging video content within inbound marketing campaigns. David and his Agency have created award winning videos and websites and have been trusted by Fortune 500 companies, universities, small businesses and companies just like yours as an extension of their marketing department. Connect with him on Twitter @DavidCaronDC.
Latest posts by David Caron (see all)