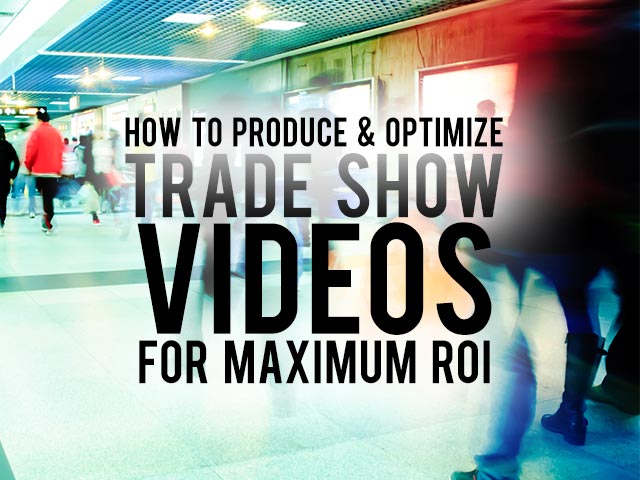 How To Produce & Optimize A Trade Show Video For Maximum ROI
Upgrading your existing marketing and trade show strategies to the new and more cost effective marketing methods of inbound marketing, you'll realize that trade show videos are not your typical video production. Trade show videos are pure science. You really only have a few seconds to captivate your audience. There are thousands of trade show attendees and so little time. What do people do the most when they are at trade shows? Walk around the booths. Typically they keep looking around, are being pulled in every direction, and having people push their product on them. How is this inviting? Why would you want to talk with a rep that is pushy?
How to Captivate Your Audience with a Trade Show Video:
Keep it Short
The length of your video for a trade show should be short. Keep the video length between 30 and 60 seconds. You'll have the video on repeat so people can watch the entire video over and over in a short period of time.
Don't Sell in Your Video
The goal of your video should be to drive visitors to talk to your company reps. The goal should not be to sell your product. The only thing that should be sold in a trade show video is the reasons why each visitor must talk to your representatives. Summery: No selling just hook them in.
Individual Complete Thoughts
The storyboard for your trade show video should consist of several complete thoughts. You are given the chance to capture their attention after just a glance or a few seconds. If your message is too complex or caries over several shot, you'll loose the prospect. They must understand the need, you must create the desire, and you only have a few seconds to accomplish this.
Guide Viewers to Your Reps
Unlike a typical company overview video or product video, your goal is direct the view to your representative not to immediately purchase a product. This certainly impacts how you script and storyboard your video. Take the necessary steps to research the best CTA's and visuals for your video. As stated in a previous point, don't sell in your trades show video – create desire and send them to your reps – (FYI – that's your CTA.)
As always, if you find that this is too much for you to handle or would like to walk through the entire process with an expert, schedule your complementary video production consultation with a DCD video production expert.