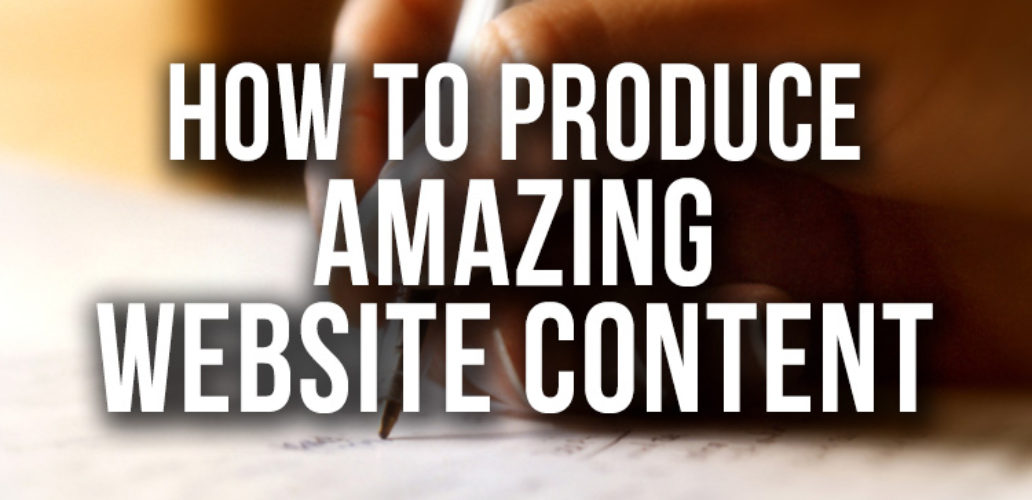 How To Produce Amazing Website Content
Writing amazing copy for your website can seem like a daunting task. You must write content for not only your website visitors but also for search engine robots. SEO copywriting involves writing engaging and interesting material while at the same time using proper key wording to be found online. Using these two tools in conjunction you will be found more easily online, and will also be able to keep your viewers reading.
One of the best ways of creating consitant content on your website is by blogging. There's more information on generating leads from blogging by reading this article here.
Here are five rules for SEO copywriting that can help anyone writing in any field.
Know what keywords you want to be found under online. This means when someone looks up your product or service you know what the keywords they are going to use are. You should then monitor the popularity of each word, and adjust accordingly.
Try to keep each post at least 250 words. Aside from length each post should contain interesting informative information about your field of interest. Provide your readers with good incentive to keep reading.
Avoid copy-and-pasting pages that are very similar, because Google will erase duplicate pages from the index. So instead of detected to very similar pages, only one will show up in searches, thus defeated the purpose of having more than one page.
It's always smart to use a grouping of keywords that share a common phrase, idea or theme to optimize one page. This will help the search engines make the connections between the various words, and help tie multiple pages together.
Tend your Keyword Rankings
Be sure to determine the keyword ranking of your keywords in order to ensure that the right words are working for you. Keep the ranking of the words you want to be known for high is almost a no brainer, while keeping the words/ideas/feelings you don't want to be associated with as much, lower.
There you have it, five tips for amazing website content and better SEO copywriting. Hopefully these tips help you convert more leads be found more easily in search engines.
As always, we try and get the most benefits from any project we work on. Having amazing website content for search engines and visitors can go a long way and be used in many forms. You can take this copy and convert it for use in your script for a company overview video or company promo video. The same amazing copy can be used in your print and online advertising efforts. The same copy can be used in your social media marketing campaigns. The opportunity is truly endless, however it takes strategic planning and marketing expertise in order to execute and deliver results.
[hs_action id="12028″]